It is said that the internet is the best invention of all time and after that, we think laptops should hold the second rank. All ages best use the handy little boxes of magic. If we rewind a few decades, typing's minimal work used to be a huge task for many. But, now, even the major work is easily accomplished on the laptop. Globally, people find laptops as the most convenient gadgets. After smartphones came into existence, a rumor would replace laptops, but the magic box proved its essentiality and is still majorly demanded worldwide.
Laptop usage could differ from person to person, but for present times, it is undeniably an essential gadget for all households. From gamers to students, the laptop could manage to meet all ends of the user.
Being said that, we must be very careful before buying a laptop as it is a multi
Purpose gadget. The laptops come in several price ranges starting from 20000 to 1 Lakh or more. The price variation often varies due to the features and specifications. Here, we will be talking about the Laptops Under 30000 that rightly fit under the budget of 30k by meeting all the necessary requirements of features and specifications.
Best Laptops Under 30000 Overview
Here is Quick List Overview For Best Laptops in 30000 Rs
Also Read: Find Best Laptop in Your Budget
5. HP 15
| | |
| --- | --- |
| PROCESSOR | Pentium Gold 6405U Processor |
| GPU | Intel UHD Graphics |
| RAM | 4GB DDR4 RAM |
| STORAGE | 1TB HDD |
| Ports | 1xType-C, 2xUSB(2.0), 1xUSB(3.0) Type-C |
| DISPLAY | 15.6-inch, 1080p |
| Weight | 1.7kg |
| OS | Windows 10 Home |
Reason To Buy
Reason To Avoid
Check Live Price On
4. Asus Vivobook 14
| | |
| --- | --- |
| PROCESSOR | Intel Pentium Silver N5030 Processor |
| GPU | Intel UHD Graphics |
| RAM | 4GB DDR4 |
| STORAGE | 1TB HDD |
| DISPLAY | 14-inch |
| Weight | 1.5Kg |
| OS | Window 10 Base System |
Reason To Buy
Reason To Avoid
Check Live Price On
3. Asus VivoBook 15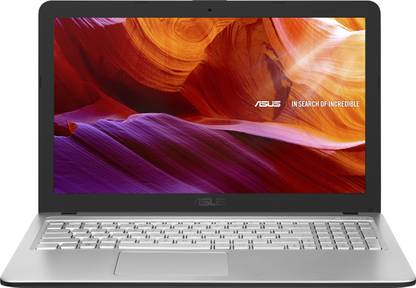 | | |
| --- | --- |
| PROCESSOR | Intel Core i3 7th Generation |
| GPU | Intel integrated 620 Graphics |
| RAM | 4GB DDR4 RAM |
| STORAGE | 1TB HDD |
| | 2xUSB(2.0), 1xUSB(3.0) |
| DISPLAY | 15.6-inch, 1920 x 1080 |
| Weight | 1.9kg |
| OS | Windows 10 Home |
Reason To Buy
Reason To Avoid
Check Live Price On
2. Dell Inspiron 3583
| | |
| --- | --- |
| PROCESSOR | Intel Pentium Gold Processor |
| GPU | Integrated UHD Graphic Card |
| RAM | 4GB DDR4 |
| STORAGE | 1TB HDD |
| DISPLAY | 14-inch |
| Weight | 2.2 Kg |
| OS | Window 10 Base System |
Reason To Buy
Reason To Avoid
Check Live Price On
1. Lenovo S145
| | |
| --- | --- |
| PROCESSOR | Ryzen 3 Dual Processor |
| GPU | Intel Integrated Graphics |
| RAM | 4GB DDR4 |
| STORAGE | 1TB HDD |
| DISPLAY | 15.6-inch |
| Weight | 1.8Kg |
| OS | Window 10 Base System |
Reason To Buy
Reason To Avoid
Check Live Price On
These Laptops Under 30000 are suitable for casual usages. If you are a hardcore gamer or hardcore user than these laptops, don't fulfill your satisfaction. You can do daily life tasks and play lite games on these laptops easily. If you are looking for a decent machine then increase your budget because there are not many good options available in this price range.
If you are a hardcore user and want laptops for gaming and heavy tasks like video editing, high-end software development then checks out our Other recommendations.
Final Overview List
---
What Should You Expect in 30000 Laptop – Buyer Guide
Buying a laptop can be more tedious than it actually looks like. The price range under? Laptops Under 30000 could cut many options for features and specifications off the list. Nevertheless, there could be many features and specifications that might help us filter the best out of the rest.
The laptops that fit into the price range aren't considered ideal for high functionality or supreme storage. However, the upgrade can make them ready to use for all. If these laptops are adequately maintained, then their durability could challenge ? 40000 under notebooks.
Here, we are with jotted features that you can expect from a ? Laptops Under 30000
Here We Talk About the things that you can expect from that laptop.
1. Brands
Brand plays a crucial role when opting for laptops. Every brand has its USP and understanding your demand, and selecting one accordingly is the wisest choice. Dell is an in-house parts producing company and comes with excellent laptops. These laptops couldn't fit in? Laptops Under 30000 budget. However, laptops like HP that are amazing in terms of exceptional durable workstation machines come in the budget. Lenovo is a budget-friendly brand that offers mid-range durability and best for minimal work.
Check Article: Laptops Brands Comparison
2. OS
The existing intel line up has evolved, and the latest laptops under budget are offering good latest generation features. The AMD up-gradation is being provided in higher range laptops and thus doesn't comprise the price range we are discussing here.
3. Platform
If you are familiar with the user interface functionality, then the Laptops purchase under? Laptops Under 30000 would become more comfortable. However, if you aren't, then we are here to reveal the details. A ? Laptops Under 30000 under the laptop is expected to come either AMD or Intel Core i3. Processors like Intel Core i5 or MAC laptops wouldn't comprise in the given price range; thus we won't be talking about them.
Well, AMD and Intel Core i3 processors are good student work or any medium-ranged work. If the laptop is purchased for heavy work, then we would highly recommend an upgrade. By putting some more money, there would be a noticeable improvement in the performance of the laptop.
4. Processor
The computing factors like processor, SSD, RAM, and graphic processor come in different shapes depending upon the budget. A hefty duty processor can come with high computing power depending upon the need of the buyer. The factor that hangs is whether there is much requirement of the computing skills or not. The Random Access Memory (RAM) helps store the temporary data, but a laptop must have an expandable memory of 8 gigabytes.
The products' quality holds high importance in the market as the in-house produced components give durable laptops. The brands that focus on the laptop's exterior and may offer stylish appeal may lack in the high quality inside. We would recommend selecting either from Dell or HP as their products are all made in-house. They have proven to give the best components under? Laptops Under 30000.
An i3 processor is brilliant for minimal work like for student usage or domestic work. However, with a few updates, the laptop could be useful for editing videos or even sound modulation.
5. Design
The appearance and design are important factors. All brands come with their kind of design and based on their customer feedback. The laptops under? Laptops Under 30000 are usually lightweight; thus, most of the models are sleek. The usage and ecosystem of its utility could differ accordingly; they are sometimes custom made. The laptops under the price range don't get multiple color options. The colors that the companies offer are either black, grey, or silver.
6. Storage
Hard drives are the underrated objects of the laptop. If adopted a proper practice of cleaning the hard drive from time to time, there is less load on the operating system, and the laptops work for the longer run. The hard drive offered by companies under the budget of? Laptops Under 30000 is around TB. The space offered by them is quite impressive. Well, the hard drive gets automatically filled in its due course. Thus, as we mentioned before, cleaning the space periodically will help in efficiently using the system.
Check Article: SSD Vs HDD
BTW You May Expect At least 1TB of HDD in that Price Range.'
7. Ram
The products that cost under? Laptops Under 30000 come with 4GB DDR RAM. There aren't multiple options available in this domain for the laptops within range.
8. Graphics Card
People into 3D rendering, gaming, animation, and others require powerful graphic processors. A hefty duty graphic processor can come in handy if the requirement is to render 3D objects quicker or the gamers want to experience smooth functioning. Other than this, generating movies with a great viewing experience and several other features require high-quality graphics. These functions can either be found in AMD or NVidia. Some companies come with AMD graphic processors but cannot fit-in the requirement list under the respective budget. For good graphic processors, we would recommend going for under? 50000 budget laptops.
9. Warranty & Support
The laptops come with automated support software. The laptops come with a usual 1 year warranty.
10. Features
You can expect some features like a blue light shield software etc. but you can't wait for any prominent feature like touchscreen in a Laptops Under 30000 laptop
11. Overall Package
Specification that are majorly underlined in under ?Laptops Under 30000 laptops are mentioned below:
4GB DDR4 Ram
1TB HDD
7-8th Gen Processor
Integrated Graphic Card
Windows 10
Basic Additional Softwares.
Where You Use a ? 30000 laptops OR What things can You Do in laptops under 30000?
The laptops under? 30000 aren't considered ideal for heavy workloads. The functionality depletes if the laptop gets overburden. The life of the laptop also gets concise. Therefore, we would consider the laptops ideal for domestic or minimal work. The students' work or lite versions of the software are considered best for the? 30000 under laptops.
Where You can Use a Laptops Under 30000 OR What things can You Do in a laptop of 30000 budget?
You Can Use that laptop for typical usages like MS Office Work and Normal Browsing.
You Must Aware that laptops in this budget are not a good fit for Multitasking, Video Editing, or Any other heavy Processing work.
Final Words
The laptops are often purchased with a view that they would be handy and should be useful for places where plugging a charger now and then is not an option. Therefore, after the budget, the second option to look for should be the battery backup. Some laptops would offer great features under the budget but would lack the power stimulation.

The wisest choice is to select the one laptop that perfectly fits in the box of your demand. Going for looks or brand appreciation isn't a good option to go with. We tried to underline the important factors and come up with the most suited laptops under the given range. We hope you could find the magic box of your desire in your little read.
Which is best laptop under 30000?
Among the above mentioned list of under 30k laptops, DELL INSPIRON 3480 model will fall in the category of under the respective price range.
Which Laptops are in the 30000 Budget?
HP and Dell have produced amazing laptops in the recent years. Among both, HP 15-db1069au model falls under the category.
Which Laptop Has the Best Performance in 30k Budget?
We have handpicked the best laptops under the price range, but our personal favourite is HP 15-db1069au. The product durability is amazing and comes with the latest features.
Which laptop brand is best in the 30k Budget?
We will go with either HP or Dell for out top pick in brands for under 30k budget.
---
Browse Laptops By Budget
Browse Laptops By Brands